I picked up
Vogue 8747
during the last sale, in hopes of bolstering the "top options" in my wardrobe.
View A is the one I chose (bottom right corner) and using the finished garment measurements on the pattern paper, I went with the 16. This pattern also includes special sizing for different cup sizes, so I figured it would be a pretty close fit. As it turns out, I had plenty of room to take it in, and should've made the 14. Oh, well...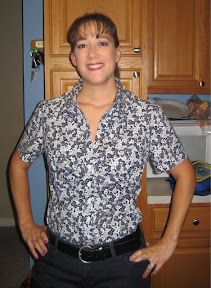 It's difficult to see the front gathers because of the print (bummer), but this is how I looked as I headed out the door for work today. I wore my super dark wash denim jeans, which made for a comfortable day.
What do you think?