With the Communion Dress now behind me (Thanks so much for all the positive comments! You guys are so sweet!!!), I have moved onto the Prom Dress. This is the 3rd year in a row I've been "hired" by one of my senior girls to custom make their prom dress. I really like this new "tradition" and look forward to continuing it! The muslin was nearly a perfect fit (WOO HOOO!!!), so with just a couple inches of added length and a small tuck in the back, I can move on to the fashion fabric! The muslin went together really fast, so with the adjustments being so minor, I should have this baby knocked out in the next 10 days. I know you would like a look-see but, you'll have to wait... Muslins are never pretty, and I really want to knock your socks off with the final product!
In the mean time, I got hit with either a cold that won't quit, or a new allergy. Sore throat last week, draining sinuses that have me constantly clearing my throat, dry cough... yuck! Luckily, I had the most awesome Mother's Day ever to make me feel better! DH splurged and made me feel super-special with his gift of.... an iPad!!! I'm eagerly awaiting it's arrival, so stay tuned. Aren't I a lucky girl? Sunday was also a nice and quiet day at home, so with the prom muslin awaiting the fitting, I got started on my dress for my niece's upcoming wedding.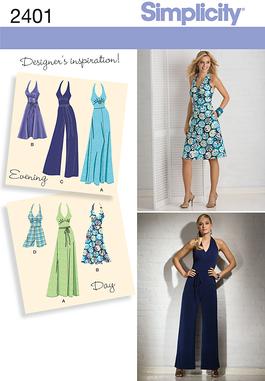 I hemmed and hawed on the fabric and pattern choice, feeling obligated to go solid and long. But, my heart kept pulling me in a different direction, so I listened to it. I'm using that awesome red print from my last Haberman's purchase with this Simplicity pattern.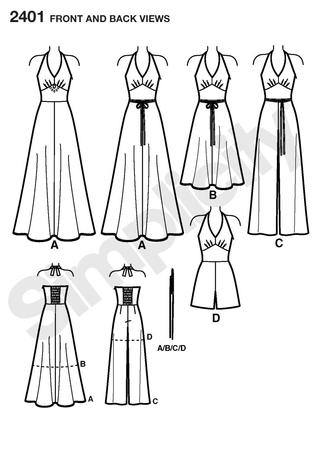 My choice is view B!
I've always loved halter tops, so although it may not be "formal", my sister (Mother of the Bride) gave me her stamp of approval, so I'm moving forward! The top is done, but needs to be taken in a smidge, then I'll add the skirt and the side zipper. I'll check in next week with my progress on both dresses!