After the disappointment of the Blah-der, I am in need of A challenge. This may surprise you, as most people would head straight for a "sure thing" win, but I have made too many no-brainer sundresses this summer, and I am thirsty for a challenge.
I have this lovely chiffon from Haberman's that wants to be a dress. I tried talking it into becoming a tunic blouse, but it crossed it's arms, lowered it's chin, and boldly refused. I tried to give it the silent treatment by setting it aside and reaching for another nicer (more agreeable) fabric. But, it kept whining and calling to me, begging to be played with since summer will be over soon and the time for lightweight, sheer, bright colored fabrics is coming to an end. Fine. You win. Let's find a pattern that will present some type of "rise to the occasion" attitude!
Simplicity 2187 came out (view B), but the blousy roominess of it makes me nervous, and there's no "challenge" to it. Very wearable, but Not what I want right now.
I flipped through the pattern boxes again (haven't finished cataloging them into the iPad yet)... nada. Then I realized that it's been a gajillion years since I traced and stitched up a Burda. Just following the right lines on the pattern sheet is a challenge in itself! I remembered a dress pattern from a recent month that incorporated a sheer fabric with a close fit, and after just a little digging, I found it in the July 2011 issue.
It's #138, and while the technical drawing is pretty boring, the model photo shows it's potential.
Reasons why this is THE RIGHT PATTERN:
1. Close fit in the waist, with no blousing, no gathering!
2. A subtle a-line to the skirt that will skim over the hips.
3. 1-piece front and 1-piece back is ideal for the stripey fabric (no matching).
4. The solid lining is more fitted (no pin-tucks) and totally separate (not an "underlining"))
This final view shows the shoulder tucks and sheer layering much better.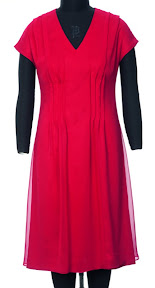 And, I can always add my wide braided dark brown leather belt to accessorize, so this is my next project. I have challenges on the horizon, as fall is coming, which means "back to work" and the need for some nice structured, tailored jackets. I also placed an order with Mood fabrics, so I am excited about that package arriving!
How about you? Anything you're "thirsting" for in the sewing room?