I wanted a challenge, and I definitely got one! Apparently, I did not buy enough of this fabric!
I think my options are:
1. Shorten the dress into a tunic/top.
2. Turn the pattern pieces and have the stripes run vertical instead of horizontal.
See, the front has to be placed on a fold, which allows me enough to cut 1 back piece, but not 2!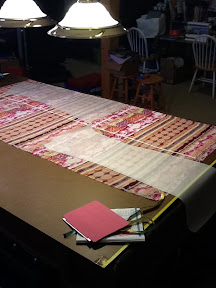 Here is what it would look like if I turned the pattern and wore vertical stripes.
There is a 3rd option, and that is to piece one of the back pieces to finish the hem and match the pattern. I don't think that would look ok!
So, horizontal blouse or vertical dress????