Disclaimer: Black does NOT photograph well. Sorry!
Our 12th Anniversary is tomorrow, so we celebrated last night by going to dinner. A fancy-schmancy dinner!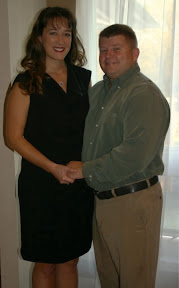 I whipped up another Vogue 1250 on Thursday night during game 5 of the Tigers-Yankees series. What a game! I couldn't deal with just sitting there (it was a nail-biter of a game), so I stepped over to my work table and sewed my stress away.
The fabric is a recent purchase from Haberman's, a stretch crepe de chine, that is both lightweight and soft, like a sueded silk.
I chopped 4" off the bottom, and took in the waist about 1/2" in both side seams. I will pick-up the smaller size pattern at the next Vogue sale...
The greatest thing about this version is that it can be both a "night out on the town" dress, and a "belted with a jacket or cardigan" dress for work.
We had a great meal (crab legs and porterhouse) and a fabulous dessert. The funniest part of the night was our pit-stop on the way home at Home Depot. Can you sat, "over-dressed"???