I had to swing into Joann's for a zipper (Halloween costume under construction), and McCalls and Buttericks were on sale for $1 and $2. I picked up these goodies...
Butterick 5610
Butterick 5356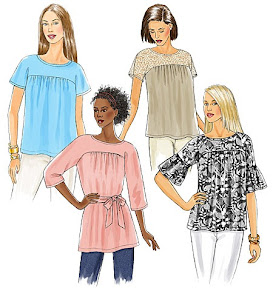 You might be shaking Your head at me on this one, but I have a plan. It involves this $900 Miu Miu blouse...
Anyhow, I also picked up these McCall's:
McCalls 5978
McCalls 6436
And last (but definitely not least), McCalls 6433 (my fave)
Those pleats! I have a wonderful deep purple wool crepe that will be perfect for this. Originally, I grabbed it to make a Missoni knock-off, using a zig-zag lightweight sweater knit and the view without the pleats... My sewing eyes are bigger than my calendar allows!