Progress is slow (we are just having way too much fun this summer), but the Challenge Dress is coming along! I have the invisible zipper installed, which meant meticulous matching of stripes. Lots. Of. Stripes.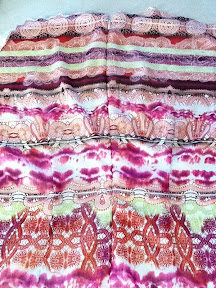 The chiffon and lining were stitched together along the center back seam, from neck to zipper bottom, and then below the zipper the layers are independent of each other. So, after installing the zip, the center back seams are stitched separately.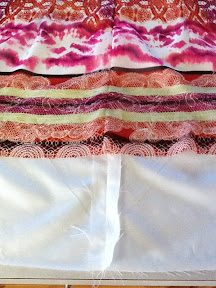 This last pic (above) shows that I left the lining long enough to still add the ruffle and hem. It was very important to keep the layers separate for exactly this reason. I will run these seams through the serger to prevent the seam allowances from fraying.
I can see the light at the end of the tunnel, I think. All that's left is to...
-attach the neck facing
-stitch the side seams (separate layers, again)
-hem the armholes
-gather and attach the bottom ruffle (the last "big" job)
I think I can, I think I can...
**ETA: I have been blogging from my iPad2, and the picture quality on the camera isn't perfect, so my apologies. It's my only complaint about this most wonderful tech gadget!