Wow, thanks so much for all your kindness, support, and words of encouragement! Sewing does definitely play a role in my weight-loss, as it allows me to wear styles that I couldn't before, and it's always nice to cut the next smaller size!
Today was the first day off of my 2-week winter break! Did I spend it in the sewing room? Nope. Had too many other "fun" things on the "To Do" list, like paying bills, filing paperwork (mostly into the circular file), running the kids to playmates, and picking up the Christmas cards. Last year, I didn't even bother with the cards, but decided to participate this year, as it is so nice to get them in the mail. Here's the pic I used this year... It's a candid from our Disney trip this past summer!
As for "inspiration", I picked up the newest issue of InStyle magazine, and found a few pages that will be ripped out and placed in my sewing space for future use!
Charlize Theron in Dior:
Sexy and elegant, understated and eye-catching at the same time.
Minks Kelly in Vivienne Westwood: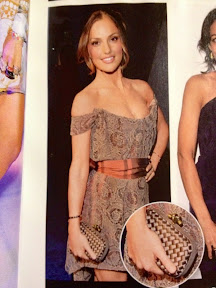 I have a black lace print chiffon that would be a perfect knock-off, but adjustments would be necessary... Unless I have another trip to Vegas in the near future?! Not a fan of the belt, and would like to see the back view.
Amanda Seyfried in Zana Bayne for Prabal Gurung
What caught my eye initially is the fabric, as I have a very similar silky print in my stash. Then I noticed the details: flared skirt, leather & rope belt... I love everything about this dress! And it would work in my actual life!!! The one subtle detail I can't mimic though, is the print at center front is like an ink blot, all symmetric! Amazing...
These sugar plums will be dancing in my head for awhile!