Happy New Year, everyone! 2012 is off to a rip-roaring start, look what I did this morning!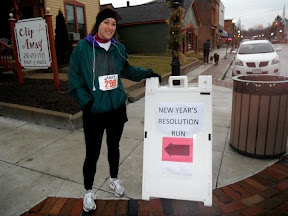 My first 5k! It was cold, but the rain stopped just as the race started, and the sun even came out! DH stayed by my side throughout (which kept me moving when I'd really rather slow down), and even said, "Ladies first!" at the finish line. Who said chivalry is dead? I didn't finish first, but I didn't finish last... Which is all you can hope for the first time out. 36 minutes was my finishing time (which is my normal pace on the treadmill), with just 3 brief walking intervals needed.
Here we are at the finish line: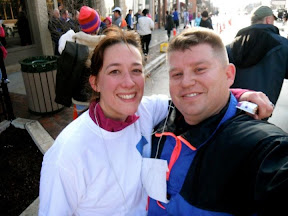 There were over 100 other runners out there with us, and it was a really fun way to set the tone for 2012. I NEVER thought I'd EVER say this, but... I like running. Not the during, but definitely the sense of accomplishment after. I would like to participate in another 5k soon, as there is nothing like having a date on the calendar (and someone else reminding you of said upcoming date), to keep you training and motivated.
I hope we are all able to make our dreams and goals a reality this year! Good luck and stay focused!