Knowing it was going to be crazy hot and humid, I wanted to make something light and flowy. Something easy to throw on, that wouldn't be binding or heavy. I have had this Vogue in my pattern stash forever, but always put it back when I see that big bow sash. There's just something about it that makes me... hesitate. So, I made my own version of it (the red one in the shorter length without the sash) of
Vogue 8469
. And, I love it!!!
The fabric is a rayon batik that I bought from Ressy's co-op last year. I wish I had bought more, as it is so soft and lightweight. The pattern has you line the whole bodice, but since I wanted to keep it ultra light, I skipped the lining and made my own bias tape instead to finish the neck and armholes.
It's the kind of dress you can toss on and where anywhere, dressing it up with accessories and a wide belt. I wore it breakfast at Chef Mickey's where we had a chance to see all the main characters!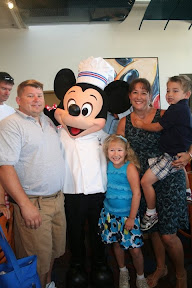 The black and white floral print dress (shown below, with Ariel) is
Vogue 8380
, and was made last summer. Another comfy cotton dress that you can't go wrong in! The princess breakfast at Cinderella's Royal Castle was one of the best meals of the week (Cream Cheese Stuffed French Toast! Yummy...) and was a lot of fun!
My last Disney vacation picture I want to share is from a small shop called "Castle Couture" where only YOU can appreciate this...
Isn't that cool? Couture garment construction underway!!! I want this sign over my sewing room door: