Islander Classic Sport Shirt, pattern 202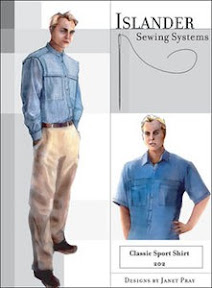 I picked this up last September at the American Sewing Expo in Novi, Michigan. It claims to incorporate industry techniques (like smaller seam allowances), and I was interested in making something a little different for DH. It's taken me almost a year, but I finally opened the envelope last week!
Sizes Medium - 3XL are included, so I traced off the XL according to DH's chest and neck measurements. As much as I hate tracing, I am really glad that I did, because I think this has the potential of being a TNT! The fit is perfect, aside from the normal length alterations, and shortening of the sleeves to show off "the guns"...
I used 2 yards of 58" wide cotton shirting (also purchased at the expo, but 2 years ago!) and proceeded to stray from the instructions. First big difference in the Islander pattern is the use of separate pieces for right front and left front. Not "cut 2" like the big 4, because of the facing for the front button placket. I compared the pattern pieces and did a double layer cut anyway, then removed the extra fabric from the CF of the left front pieces. I should've done it the right way, since I was working with a plaid... (and it really is pressed, just looks a little crumpled since it is way too big for my dress form!)
Having made plenty of shirts for DH, I was very familiar with the "usual" process, but, was nervous about stitching with such small seam allowances. The only 5/8" SA were the side seams, with all the others being 1/4" and 3/8". My needle plate is clearly marked, so it wasn't any more difficult, and REALLY SAVED A LOT OF TIME because there is no need to trim SA after stitching. And, with smaller SA, there was much less bulk in the curves and tight spaces of the collar and band. This is most definitely
the best and cleanest looking shirt collar I have ever made
! Actually, it's probably the cleanest shirt inside and out that I have ever made. The instructions tell you exactly when to incorporate your serger (crazy idea?!) and they are well illustrated, too.
My only slight "thumbs down" is in regards to the hidden pockets, just because I think they look a little different. Easy to stitch, but maybe it's the print playing with my eyes. DH is also not a fan of any front pockets, but I can easily join the top and bottom front pieces seamlessly on the next version. (buttons on the front pockets, or not? I'm not sure...)
I don't know how many new "industrial techniques" I learned, but I am beyond happy with the final product, and already plan on making more. I have some White Ralph Lauren shirting that would make for a really nice all-purpose-with-jeans-or-khakis type of shirt!