Sorry, no pics. Yes, I know, I've broken commandment #1 of sewing bloggers:
Thou shalt post pictures
.
No work = No make-up, so there. Deal with it. I'll get some pics taken soon, promise.
DH has been fighting pneumonia since this holiday break started a week before Christmas, and he's doing much better, but still not 100%. I've been taking the kids downstairs so he can nap and recuperate, so I've been able to finish these tops that I started weeks ago!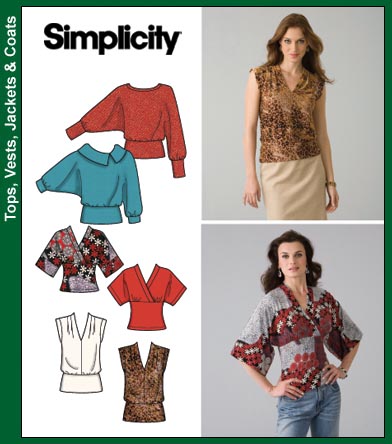 Simplicity 4020 - OOP
Both knits came from Gorgeous fabrics, and are wonderfully soft with the nicest drape. I'll get lot of use out of these colors (ivory and cinnamon), and am toying with the idea of whipping up a skirt in a coordinating plaid that was in the stash. We'll see how productive the next couple days are...
I've got the "Vintage Sew Along" brewing in the back of my mind, and have had some trouble choosing a pattern. I really wanted to make up this one, as I love these tops!
But, it's a 32 bust (ha ha ha, isn't that hilarious?), and as I was trying to grade the pattern up to the right size, I realized that I already own
this
pattern, which has the same neckline. And, I got a pleating board for xmas, so I want to try that out instead of the gathering along the front placket.
This skirt pattern is (nearly) the perfect size, so I'd like to start with it, and get warmed up with the whole vintage idea, as I've never made one up before. Yes, I am a chicken...
If that all goes well, I'll dive into this lovely 50's era Patt-O-Rama. It'll have to wait to be worn until summer, but that's okay. I'm currently on the hunt for a cute polka dot fabric, just like in the picture...
Meanwhile, I have 2 projects on the table all cut out and ready to go. A pair of grey wool trousers for work, and a new
dress
for Little Miss Princess. I'm really trying to get these UFO's done before I cut out anything else new! You can quit laughing now, really...