I've got too much stuff. There, I said it.
Vintage patterns that I'll never make up (menswear and maternity, anyone?), along with fabrics that were too good of a deal to pass up (but, now my tastes have changed). Add in my embroidery business offerings, and I think maybe Etsy will help me lighten my "stash" load.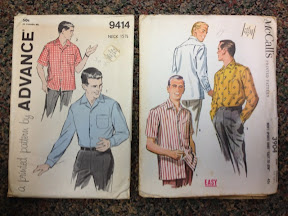 My fear? Is it possible to lose money in the attempt to sell stuff there? I know it's just 20 cents per item to post, but there is SO MUCH STUFF FOR SALE THERE ALREADY. Almost seems like a saturated marketplace. I'm not looking to make a million, but I don't want to give it all away, either. I'm thinking that if I "bundle" the patterns and fabrics, that will help them move. ???? With my embroidery business, I'd post samples, but take custom orders. Again, though, there are similar embroidery offers there, so is it worthwhile?
Can any of you tell me your experiences with selling (or shopping) on Etsy?