Little Miss wanted to be a butterfly this year... andd, so it shall be! I used a pattern from the stash, but lengthened the skirt and sleeves.
Butterick 3714
is the pattern, but I eliminated the cowl piece, and lengthened the sleeves. With her being petite, the length ended up perfectly covering her jeans and shoes. (In Michigan, Halloween may require a heavy under layer, along with mittens!)
The vest came from another stash pattern, and I just added the gathered ruffle, which I made 6" wide, folded in half lengthwise, gathered and attached prior to lining.
We started our design concept with the wings, which we bought at Joann's. For some reason, they had a huge selection of butterfly wings this year, in many sizes, totally glittered up and bejeweled. We then headed to the "formal wear fabric" area and bought 2 yds of pre-glittered satin, 1 yd of organza, and 1 yd of brocade for the vest. Below, you can see the glitter in the satin (no win at Bingo, bummer!)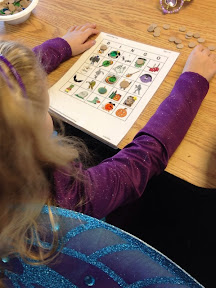 The elastic straps are narrow, so we put them over the vest, but then tucked them into the armholes, and tied them together to snug them up. If you look closely, you can see the tie in the neck opening.
So, that was my Halloween costume adventure this year, with Liitle Man opting for the store-bought Capt. America. Complete with muscles, of course!